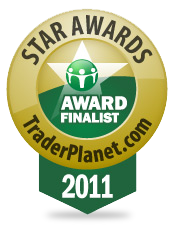 Your vote counts!
Vote for Market Traders Institute's Ultimate Traders Package on Demand for 2011's STAR "Trading Course" Award.

Congrats to Market Traders Institute, Inc. (MTI), Finalist for the 2011 STAR Awards Program
Orlando, FL – November 3, 2011 – Market Traders Institute Inc. is pleased to announce that we have been designated as a finalist in the 2011 STAR Awards, presented by TraderPlanet.com and sponsored by SFO Magazine.
Market Traders Institute Inc. made the prestigious STAR Awards cut in the "Trading Courses" category. The TraderPlanet STAR program is presented as individual reviews of products and services that provide exemplary performance and value for traders. Vendors and authors compete in respective categories by accruing votes from TraderPlanet.com members and visitors.
Market Traders Institute Inc. joins the ranks of industry notables such as TradeStation, eSignal, Forex Capital Markets and Market Technologies to compete for the coveted STAR award. "We are exceptionally thrilled to be considered for an award that has previously been given to such well-respected organizations," said Jacob Martinez, President.
"Following a best-practices approach and remaining end user-focused with our product design reflects our commitment to remain responsive to the advancements in technology and the needs of our clients. We will look forward to the outcome of the TraderPlanet community's voting results in early 2012."
The STAR awards recognize companies that have achieved innovation in the categories of brokerage services, trading platforms, strategy software, newsletters, instructional courses and books. Now in its third year, the STAR Awards program has raised the standard for excellence and serves as a prestigious representation of outstanding vision and achievement in the financial industry.
Market Traders Institute Inc. (MTI) was founded in 1994 for forex traders and is recognized worldwide as a leader in Forex Education and Forex Training. Lead by the President and Founder, Jared F. Martinez, commonly known as "FXChief" in the Forex Industry, MTI is proud to be one of the world's oldest forex educational companies. MTI is known for their forex education techniques, state-of-the-art trading and analysis software, online interactive Forex analysis rooms and comprehensive support. For many, MTI is synonymous with high standards of effective teaching and a dedicated commitment to performance-oriented results, not theory.

Press inquiries, please contact:
Market Traders Institute, Inc. (MTI) • P: 1-800-866-7431 • E: info@markettraders.com
###
To get a sneak peek at MTI's education, attend a free webinar by completing the form below.