We're making a list of trading tips and checking them twice and since you've been such fantastic traders all year, we're breaking down one of our #25DaysofTrading tips to help you with your end-of-the-year trading strategy. You won't be able to find this information in an upcoming webinar, so grab a cup of cocoa and feel free to pull up your charts as we reveal the top 3 candlestick formations our experts are looking for during the remaining weeks of 2014.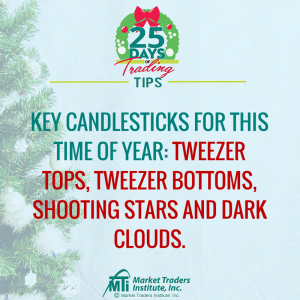 Tweezer Tops and Tweezer Bottoms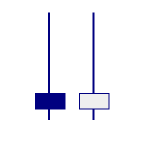 Tweezer tops occur during uptrends when the Bulls take control of the charts. This candlestick formation is easily identified by having a long wick (60% or more of the length of the entire candle) and a small body. Tweezer tops indicate the Bulls and Bears are fighting over the market. Essentially, the Bulls were moving the market north, but Bears were able to keep the Bulls from fully doing so. When a tweezer top formation pops up, experts read it as a sign that the market is headed lower. Once the candlestick has been called out, experts will either try to sell before the stock or currency plummets further or wait for a potentially low buy in.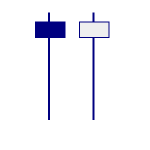 Tweezer bottoms are essentially the exact opposite of tweezer tops. They show that the Bears were moving the market south, but Bulls were able to keep the Bears from fully controlling during that amount of time. This pattern consists of two or more candlesticks in a downtrend and could signify a potential uptrend is about to take place. Many of our expert analysts view tweezer bottoms as a signal to buy in before prices increase or as a signal to sell high if they're already in the trade.
Shooting Stars
Shooting stars are candlestick formations that start with a decision candle followed by an indecision candle (also known as a spinning top). For a bullish shooting star, the market is in a bearish movement (retracement period) during a bullish trend. This is a point where the Bulls are taking back control from the Bears. After the close of the indecision candle showing in the trend direction, the market should reverse back toward the dominate trend direction. During a bearish shooting star formation, the market is in a bullish moment during a bearish trend.
Visually, these candles are made up of a small lower-body, a short lower-wick and an extended upper-wick that could measure at least two times the size of the body. When our pros see this formation, they tend to check for a lower open on the next period before considering to sell.
Dark Cloud Cover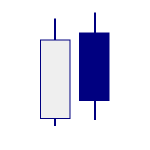 This formation occurs only in a bearish market direction. Not to be confused with a bearish engulfing candlestick formation, this formation symbolizes a market reversal back into a bearish trend. So, how do you spot it? Look for a bearish candlestick preceding a long bullish one. Visually, it looks like a "dark cloud" is looming over the upward trend, signifying the onset of a downward movement. Dark cloud candlesticks typically suggest short sellers are jumping into the market, so traders could expect a steady decline within the days to come.
Have you noticed any of these candlestick formations in your charts? Let us know on social media:





For more pro tips and to see how you could prepare your trading strategy to make 2015 your best trading year yet, sign up for one our free webinars with the form below: