The holidays are a great time to reminisce and reflect on the past. How has your 2015 trading year played out? What was your most successful fiscal quarter? What was your biggest trading mistake?
Now that these questions are bouncing around in your head, it's time to prepare for an even better 2016 and we want to help you make your trading resolutions real. That's why we're giving you the top 3 tips to creating (and keeping) your New Year's trading resolutions!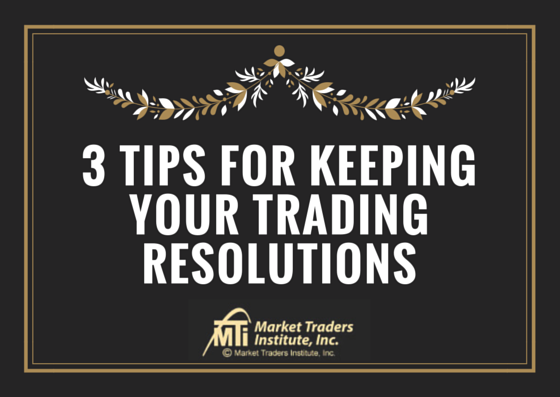 1. Define and break down goals
Saying you want to become rich is not enough and frankly not realistic. If you want to see success, you need to be more specific. "In 2016, I want to work on my basket trading strategy so I could trade more pairs/optionable stocks at once," is a great goal to get things started.
Now that you have your goals in mind, it's important to plan out how you will reach them. By breaking down your goals into mini-goals your chances of success have a greater probability of playing out. So, if basket trading is your main goal you could break it down like this:
January: research articles on basket trading and sign up for live market workshops.
February: put your research to the test in a demo account.
March: review your demo account. Identify your weaknesses and determine how you could improve them.
April: open up a trading account.
2. Seek advice from experts
When your sick, you go to the doctor. When your car needs a tune up, you go to the mechanic. So, when you want to trade who do you go to? At MTI, we have several expert analysts who are committed to YOUR success.
Get a head start with your resolutions and sign up today>>
Every week we have a flexible workshop schedule, where you could watch our experts trade live and put their groundbreaking strategies to use. After each workshop they open up the floor to answer your questions and help you realize how you could apply their tactics to your trading strategy.
3. Trade with Friends
Did you know people who diet with a buddy are 71% more likely to keep off the weight? That's because they have someone who understands their lifestyle and will be there when they need a little extra motivation. The same could be said with trading! Surround yourself with people who won't look at you with confusion when you talk about pips, stop losses and Fibonacci systems. If none of your friends trade, head over to our social media pages, we have a ton of traders who talk to each other and offer their personal insights every day! Join our community of traders by clicking on the buttons below:
And remember…
We are always here to help! We are so proud of our students' success and we can't wait to see what 2016 has in store for each and every one of you. Here's to a happy, healthy and profitable new year!
Your MTI Education Team
For more pro tips and to see how you could prepare your trading strategy to make 2016 your best trading year yet, sign up for one our free webinars with the form below: