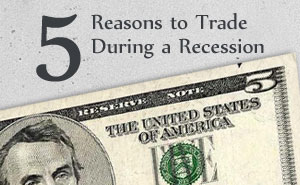 Unlike other financial markets, the Forex provides earning potential even during times of a recession. The Forex market is not based on the strength or weakness of the world's countries, but rather the movement of currencies prices against each other. Here are 5 reasons to trade the Forex during a recession.
1. Liquidity
Over $4 trillion traded each day could make for substantial trading opportunities.
2. Flexibility
Trade from home. If you're currently seeking employment or a secondary income, the Forex gives you the flexibility to trade from home and/or in and around your schedule.
3. Availability
The Forex is available 5 1/2 days a week, 24- hours a day to give you ample opportunity to analyze and execute trades.
4. Customization
Have the option to trade based on your preferred methods and style.
5. Volatility
The market fluctuates constantly. This gives you the ability to take advantage falling and rising currency values and in a relatively short amount of time.
Learn more about the basics of Forex trading in a complimentary webinar. Complete the form below to reserve your spot now.