Have you ever said to yourself: "I don't have enough time to trade the Forex."
If you're shaking your head yes, we're not surprised.
This is the #1 trading myth we hear aspiring investors say time-and-time again, but the funny thing is, they don't know how wrong they are.
The great thing about the Forex market is it's open 24-hours a day, 5 1/2-days a week — making it the easiest market to fit into your busy schedule.
Now, it does require some planning to fit the Forex into your schedule, but seeing as we have over 21+ years of trading experience under our belt, we put together this list to "help a trader out."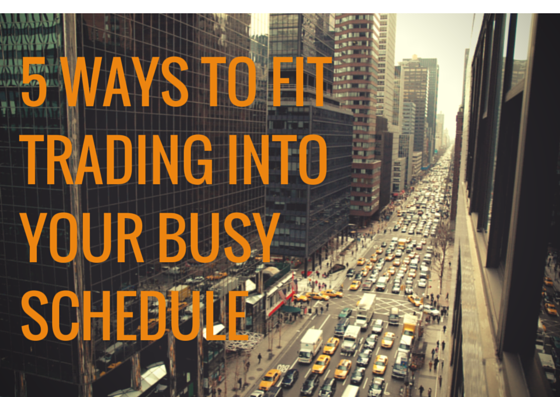 1. Set short-term and long-term goals
This is vital if you're looking to become a successful trader. Design your short-term goals to keep you on track daily and create your long-term goals to challenge yourself and push your trading boundaries. An example of a short-term trading goal for those starting out could be to successfully close a low-risk trade within 24 hours. An example of a long-term goal could be to successfully trade multiple USD baskets.
You could learn more about trading USD pairs in our latest DollarDrop workshops >>
2. Get support
If you want to get in shape, you hire a personal trainer or follow an exercise routine online. So why on earth would you trade alone? Find a mentor and soak up as many resources as you can. There's a reason they say ignorance has a price. Enter the market with just a hunch and get ready to pay the piper. The more you learn the more you could earn. Simple as that.
3. Strapped for time? Multitask.
Remember when we mentioned the Forex market is open 24-hours a day? Use that to your advantage!
Instead of gossiping by the water cooler at work, take some much needed me time and look for a quick-pip opportunity.
T.V. series fanatic? Postpone the next Breaking Bad episode to the weekend and use that hour to research what's happening in the global markets and how it could affect your trades. You have Netflix for a reason.
4. Stay healthy
This is a one of those tips that could not only help you with your trades, but help you in your overall life. There's a reason people say you are what you eat. Gorge on pizza and donuts and you'll feel just as round and greasy. Foods with little nutritional value will zap the energy out of you and with market volatility ranging the highest from 2:00am to 6:00am ET (GMT -4) you want to be on top of your trading game. Heighten your awareness and help power through late night trades with a well balanced meal like chicken breast on top of lush bed of greens with a side of steamed veggies and feel free to top it off with some Italian dressing.
5. Don't become a hermit
Once you get the hang of trading, it can be easy to seclude yourself from the outside world. But as much as you want to spend your time doing this…

we urge you to listen to what the FX Chief™, Jared Martinez has to say:
"I've been trading for over 21 years and the one thing I always tell my students is to live a well balanced life. When you make trading a chore, you could lose more than just your passion for it. I always make sure to set aside time for my family. Sometimes you just have to take a beach day with the grandkids over a day sitting in front of the charts analyzing the market. It helps keep you sane and helps keep your passion for trading alive."
So, now that we gave you a few pointers, we think it's only fair you share some of your personal pointers with us. Reach out to us online by clicking on the buttons below and let us know how you fit trading into your busy schedule.
Still trying to figure out your trading schedule? Don't be shy, come to one of our live workshops and ask one of our Senior Market Analysts for yourself.
Fill out the form below to save your seat.