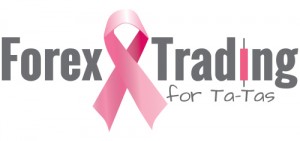 That moment when a pin could drop and it would shatter everyone's composure like glass. When you find out that you are in the fight for your life. When you wake up to be losing an uphill battle that will change it all. That moment when the doctor walks in with that somber look and your heart prepares for the worst. They say, "The tests show that you have breast cancer. We need to talk about your options."
I personally know three women in my family who have fought breast cancer. Two are currently survivors.
There are a lot of bad things about breast cancer from the painful and life-altering treatments to breaking the news to friends and family. Many people find that they must place a price tag on how much they are willing to spend to prolong or save their life with no guarantees that what the doctor suggests will work. With all of these obstacles, there is still hope. That is what October means to Market Traders Institute.
This month, we are launching the Forex Trading for Ta-Tas campaign. Now, we've raised money for breast cancer awareness before, but never anything like this. We see how this market changes the lives of our students on a regular basis. Now, we want the chance to see if Forex trading can not only change lives, but save lives.
Here's the plan:
MTI has opened a $10,000 trading account that we will be trading in from October 1 – October 31. EVERYTHING that he earns in that trading month will go to charity.
Market Traders Institute is doing their part for the cause by donating a portion of their monthly proceeds as well.
MTI employees are going Casual for a Cure by donating a $1 per day to lose the business attire and to do their best to beat the company Casual for a Cure record of more than $750.
To learn more about what MTI is doing to support awareness and to stay updated on our progress CLICK HERE