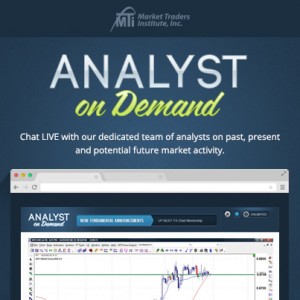 Hello Traders!
Here at Market Traders Institute our number one concern is your personal growth and development. With key features like live broadcasting, live chat, and live mentorship sessions with the FX Chief™, our Analyst on Demand™ feature has continued to produce successful traders; expanding experience, education, and providing top notch support to our MTI students!
Just as the market changes and evolves, so must our approach to helping you reach your optimal level of success, this is why we're ecstatic to announce upcoming improvements to our Analyst on Demand™ membership!
One-on-one mentoring
Our team cares about everyone's improvement above and beyond our broadcasts. The new one-on-one mentoring sessions will allow you to forge stronger analyst-student relationships based on your level of experience and learning curve for a small additional fee, (call in for details). By catering to your specific learning style, your understanding and monetary gains can exponentially increase!
New educational videos and updated calendar topics
A slew of new videos are coming your way! Learn about trading overlaps and advanced systems to help you build a powerful and reliable trading system and refine the skills you've already mastered.
Updated broadcast schedule
More topics to help with trading opportunities are on the horizon, so make sure to pencil us in! Fichardt, FX Big Dog is kicking everything off with a handful of new sessions:
8-9m ET(GMT -4) Happy Hour (scalping only)
9:30-11:30am ET(GMT -4) Show Me the Money (swing setups)
12-1pm ET(GMT -4) Trade Recaps
Analyst team forum and roundtable
Immerse yourself in an interactive community of traders where you can discuss what matters most to you. With the addition of an analyst team forum and roundtable you can seek advice on the market movements most important for you.
Guest appearances and broadcasts
Increase your Forex knowledge with expert advice from additional guest speakers. Students will also be able to participate in future broadcasts, allowing you to share your MTI success story with your peers!
These features are just some of the amazing improvements coming your way! We have a great team in place and we are aiming to create a more intimate and personalized MTI student community. Check out our Analyst on Demand™ schedule to see how you can join our thriving community of traders who have reaped the benefits of Analyst on Demand™!