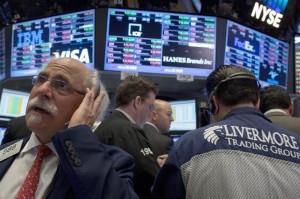 In his weekend SPY the Market overview, Christopher Irvin ran down the multiple negative factors currently affecting the markets.
Flight to safety
The Paris attacks are spurring a "flight-to-safety," as reported in this story from CNBC, which noted,  "Obviously this is an incredible tragedy, and you have a heightened sense of insecurity by investors and people around the world and when that happens you have a flight to safety. You should have a run on an already strong dollar," said Art Hogan, chief market strategist at Wunderlich Securities. Hogan expects continued selling in stocks and a bid in Treasurys."
Lowered earnings
Another issue facing the stock market is the string of lower-than-expected earning reports, especially some from the retail sector.  This might normally cause the Fed to hesitate before increasing interest rates, but the FOMC has seemed more resolute than usual that a rate hike could happen next month.  In a report about this conflict, Reuters said:
"S&P 500 earnings are on track to close their first reporting season of negative growth since the Great Recession and estimates call for sub-zero growth in the current quarter as well.
Even if the trend reverses next year, as expected, a Fed rate hike in December could mark an unprecedented conflict between a tightening cycle starting at the same time as earnings fall into recession."
Bloomberg.com addressed investor fears about the combination of lower retail sales and a potential interest rate hike this way:  "'The takeaway from today's retail data is more concern about the pace and magnitude of any Fed rate hike cycle on a still uneven growth experience in the economy,' said Eric Wiegand, senior portfolio manager at the Private Client Reserve of US Bank in New York."
Oil plummets
And, if that isn't enough, oil prices continue to plummet, and while this may have a positive effect on retail sales this holiday season (Chris likens lowered gas prices to a tax break — putting extra money in shoppers' pockets), investors seem to be expecting prices to go even lower.  In fact, one $7 million trade on Thursday is betting exactly that — and CNBC reported:
"In the eyebrow raising wager, the trader — or institution — bet more than $7 million that Exxon Mobil shares will plummet through the first quarter of next year. Specifically that trader purchased 70,000 of the April 70/60 put spreads for $1.05 each. Since an option contract controls 100 shares, this person paid $7.35 million on a bet that Exxon Mobil shares will fall as low as $60, or 24 percent, by April expiration. The stock is already down more than 16 percent this year, but it hasn't traded at sub-$65 levels since August 2010."
What's the right response?
You might think that bad news piled on bad news would lead to reduced opportunities, but for smart Forex, stock and options investors, that is simply not the case.  Every day provides new ways to profit, and our experience and knowledge can help you avoid the noise and uncover the winners that are out there — even when the markets seem to be tanking!
Don't miss your chance to create good news from bad.  Sign up for a Forex webinar using the form below, or visit https://www.markettraders.com/stock-package/ today to join us for one of our free stock and options events.