Federal Reserve Chairman Ben Bernanke has confirmed many people's suspicions. The Fed is likely to increase its already record-breaking stimulus plan to boost the US economy. The news comes as officials begin to lower their expectations for economic growth.
Unemployment rates seem to be stuck in the danger zone and Fed officials anticipate another increase before the year's end. Inflation rates and the Euro Crisis only add to the financial grief. Unfortunately, a Euro Crisis resolution seems even further in the distant future this week as Greece's elections led to more problems and Spain's debt rose. On top of these, the U.S.'s Operation Twist was officially extended yesterday and now it seems the U.S. debt will only rise from here.
In the chart below, Forex Analyst Mark Maldonado displays a 128 pip movement in the EUR/USD currency pair which began within minutes after the announcement was made.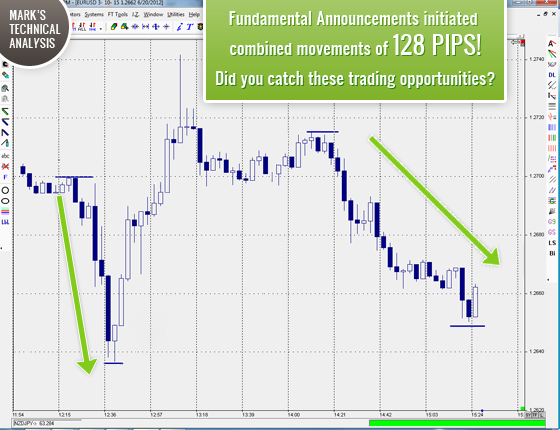 In Bernanke's efforts to assist an ailing economy, the currency market is changing rapidly. Forex traders were preparing for this move and are now able to act quickly on trading opportunities. Did your trading plans allow you to capture these opportunities too?
Preparing possible trading scenarios gives you the upper hand in situations like these. Preparation is possible when you have the right Forex education to give you tools to tackle the market. Turn your Forex trading dreams into a reality by taking the first step. Attend a Live, upcoming webinar by completing the form below.