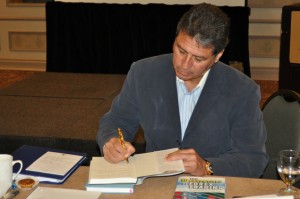 "To be tested is good… to be challenged is even better. We only learn from those  issues in life that challenge us."
Believe it or not, our lives are governed by natural laws. Jared Martinez had discovered that all financial markets are governed by these same natural laws and that success comes to those who understand and obey these natural laws. These laws are so obedient that even during the time of the 9/11 disaster, the market became predictable and responded in a perfect Fibonacci sequence. Mr. Martinez highlights the impact that these fundamental laws of the market and how they are intertwined in all our lives.
In writing "The 10 Essentials of Forex Trading", Mr. Martinez aimed at giving the novice and the experienced trader a different view on Forex– a view that shows the human involvement in trading. His style in writing is entertaining and packed with many antidotes and life wisdom quotes as he shares his personal experiences in trading– personal challenges he overcame, personal failures he learned to accept and move on from, but most of all–the personal growth and changes he made, before he could become successful in this market.
He later founded Market Traders Institute, Inc., a leader in Forex education and has since trained more than 15,000 traders worldwide. Mr. Martinez is the author of "The 10 Keys to Successful Trading," "The 10 Habits of Successful Traders," "The 10 Essentials of Forex Trading," and, his future book, "The Forex Mindset."
Mr. Martinez is internationally known for his weekly Mentorship sessions where he instructs traders on the psychological aspects of trading. He also contributes to many publications in this field, such as FX Television, Stocks and Commodities, FX Street and Active Trader. His team of highly skilled staff assists traders in every aspect of trading which includes: education, charting, technical analysis and mentorships.
The easiest and quickest way for you to get involved in the field of Forex is to attend a complimentary webinar by completing the form below.