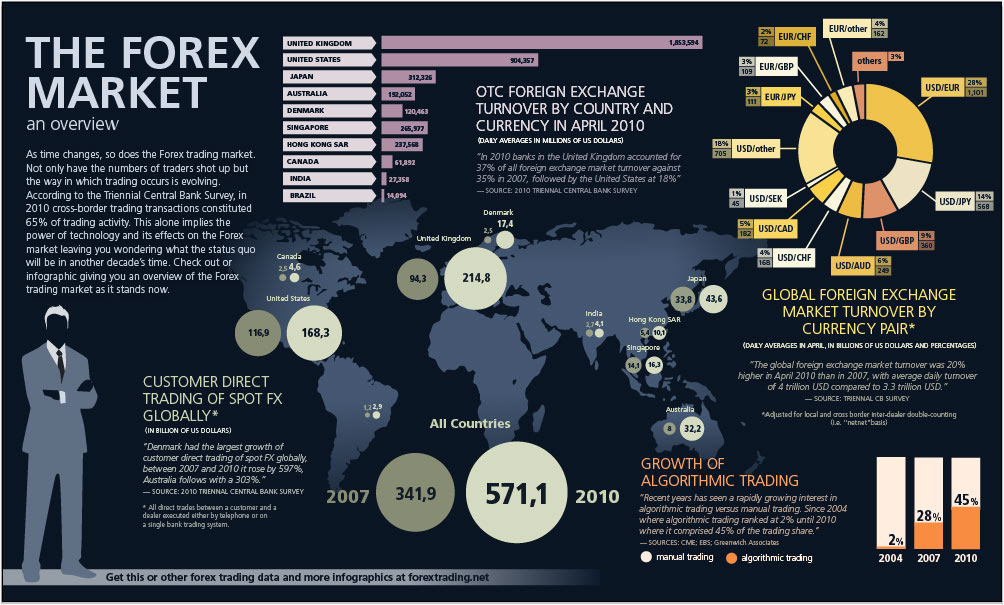 Earlier this year, we saw the results of an interesting InterbankFX survey that focused on the makeup of traders within the foreign exchange (forex) market. The survey's results gave us insight into the average forex trader—their experience, their behaviors—their anatomy, if you will.
The results of yet another forex survey have recently been released. This time the survey's focus is more, well, like a geographical census.
Here are some of the highlights:
In 2010 banks in the United Kingdom accounted for 37% of all foreign exchange market turnover against 35% in 2007 (followed by the United States and Japan).
Denmark had the largest growth of customer direct trading of spot FX globally, between 2007 and 2010 it rose by 597% (followed by Australia).
The global foreign exchange market turnover was 20% higher in April 2010 than in 2007, with average daily turnover of 4 trillion USD compared to 3.3 trillion USD.
It is exciting to see such an increase in growth of the foreign exchange market. What's really important in this survey is that it shows substantial growth in specific demographics. The forex market isn't just thriving where it's been well-known. It's gaining popularity in places where it hasn't.
This is absolutely a huge deal, whether you are an active forex trader or not. As we see the forex market continue to expand, we see greater potential for investment opportunities. And, if the current mood swings of the world's economy aren't enough to get people to rethink stock market investing, a recession-proof market like the forex certainly is appealing.
Consequently, the attractiveness of this growing market is also producing more evolved traders. Two surveys released this year showed a significant rise in the use of algorithmic trading. Between the world's rapid technological advancements and the plethora of already-skilled traders out there, education in this emerging market is essential.
What about you? Are you enthusiastic about the results from this latest survey? Are you an active trader within the foreign exchange market? Do you have the skills necessary to succeed?
Join us for a free webinar and find out how you can gain those skill to succeed in the Forex market. To register, complete the form below.