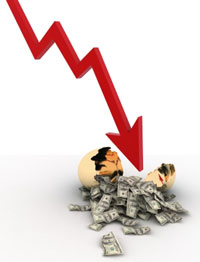 Yesterday featured the biggest one-day decline in six weeks for stocks, and we know the reasons why.
Some investors remain concerned about what an interest rate hike could mean for them should it happen in December (and experts now put that probability at 68%) — although rates will remain low for some time no matter what.  Still, as reported by Zacks.com, "the S&P 500 finished in the red on Monday, down for the fourth-straight session and posted its biggest one-day drop since Sep 28. Meanwhile, yesterday's loss dragged down the Dow to negative territory for the year."
China woes
Also in the news, disappointing trade data from China threw a wet blanket on yesterday's trading. Reading this morning's news, you'd think the sky was falling — but an impending rate hike also seems to be starting to strengthen the U.S. dollar — so as usual, there's no bad news that doesn't mean good news for the trader on the right side of the trade.
Looking ahead
We are watching all of these developments, and discussing them daily in our webinars.
As we identify prospects worth investing in due to reduced prices, we'll share them with you along with our analysis.  We're also planning the best strategies to enact now in stocks and options to profit from what looks like a more likely interest rate hike next month.

Spend some time with professional traders, and you'll learn that bad news is always relative.  In fact, a decline now could make a rise during the busy holiday season that much greater (and more profitable!).  Make sure you visit https://www.markettraders.com/stock-package/ today to join us for one of our stock and options events.