FX Showtime, Analyst on Demand Host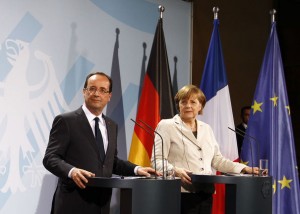 Reuters reported that German Chancellor Angela Merkel and French President François Hollande will be working together in Paris to brainstorm. The goal: To help France meet its deficit targets. France, like most of the euro-zone, has been facing serious financial difficulties and recently has been granted an extra two years to meet deficit cutting targets.

Monetary policy from Berlin has not always been positive with the French, nor with Europeans as a whole. Its campaign for monetary rigor has been remarked as being responsible for putting Europe into its current recession. There have also been disagreements as to whether the EU should risk a trade dispute with China by imposing punitive duties (or additional taxes) on its solar panel exports.

Despite their differences in political views, (France's leader is very socialistic, whereas Germany's is very conservative) a diplomatic source in Hollande's office said that relations between Paris and Berlin are "very regular, very formal, and very efficient." Efficient would be my personal description for Germany indeed, especially when being confronted with the possibility of becoming the potential sacrificial lamb at the altar of European economic advancement. In fear of being held responsible or perceived responsible for the recession and the accompanying unrest of such a burden, German officials have begun planning policies designed primarily to boost industrial competitiveness and job creation. They are taking preventative measures to avoid descending into the state of affairs of Greece and Cyprus.

Though few details have emerged on their plans, this is a great example of overcoming trivial differences for a common goal. I certainly hope that these two leaders, along with their respective industrialist consultants, will be able to come up with a viable solution that will help boost the euro-zone back into a competitive role with the U.S. and Asian markets, consequently improving the overall financial and physical well being of the people. Perhaps their model of cooperation would serve us well here in the United States.

The result of these cooperative efforts aimed at improving the financial situation in France could affect your Forex trades. To prepare for the movements that could come from these meetings, please attend an upcoming webinar. Complete the form below to reserve your webinar seat now!