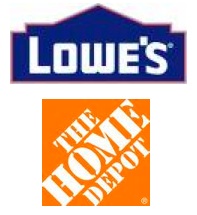 From the earnings reports we've seen so far for Q3, we might assume that consumers aren't flocking to Etsy (ETSY) or collecting Groupons (GRPN), but they may be fixing up their homes.
Home Depot fixes up well
As reported on Yahoo Finance, yesterday Home Depot (HD) delivered earnings that topped the estimates of analysts.  Revenue also was in-line with Home Depot's Q3 forecasts.  The company showed stronger-than-expected same-store sales growth, which led to a rise in sales more than 6% from last year.
Lowe's also impresses
Today, Lowe's Cos. (LOW) also reported good news, with Q3 earnings of $736 million.  With profits of 80 cents per share, the earnings results exceeded the Street's expectations of 78 cents per share.  LOW has risen 24% in the past 12 months, and almost 6% since the beginning of 2015.
Wal-Mart also reported profits higher than analyst estimates yesterday (which lets us question Warren Buffett's moves reported in yesterday's blog post).  However, sales slightly missed forecasts, falling more than 1% from a year earlier — primarily because of weak overseas sales.
So here are the trends
When you look at the rise of home repair stores and Wal-Mart, and the downtrend of higher-end retailers like Macy's (M), it would appear that Americans are investing in their homes (and not staying dressed in the latest fashions).  In general, mall-based stores have also not done as well as freestanding locations like Lowe's and Home Depot.
All of these reports fuel the charts we follow and analyze for you each day in our webinars, and the movements these stocks and options make — along with the effect on the U.S. economy that is reflected in Forex pairs — create a potential for profits.  You too  can learn how to invest professionally, and that process begins when you join us for one of our free webinars.

Just take some time out from your ongoing home repairs to register for a Forex webinar using the form below, or visit https://www.markettraders.com/stock-package/ today to join us for one of our free stock and options events.