– Guest Post by Chris Irvin – Director of Equities Education at MTI–
Interest Rate Hike
The possibility of an interest rate hike will be front and center for equities traders this week.
Last Friday's jobs report did little to provide the clarity that the market was hoping to get from a number that was in-line, or better, than the expected 220,000 jobs.
Instead, the number was much lower, coming in at 170,000.  This led some traders to start to rethink their trading strategies.
The biggest issue we face? Volatility.
Less than a month ago, traders were looking for more volatility in the markets.
This appears to be one of those "be careful what you wish for" scenarios because we now have so much volatility that the market has trouble moving in one direction for more that two days at a time.
And, the reversals are not small.  
Moves of 300 to 500 points at a time in the Dow have been more common than not over the past two weeks.
Part of the problem? 
The jobs report.
The market was expecting a solid jobs number that met or exceeded expectations.
If this would have happened, the U.S. Federal Reserve would have interpreted the number as a signal that the U.S. economy is strengthening and a rate hike was on the way.
But, when Janet Yellen and the other Fed board members see a weak number, the decision is not so cut and dry.
The one thing that the market hates is uncertainty, and uncertainty leads to volatility.
The Next Big Move: September's Fed Meeting
According to Chris Irvin, Director of Equities Education, this is going to be an "uneventful" week for announcements, but next week should be a different story.
The Fed rate decision will be announced on Thursday, September 17th,  and prior to the announcement, there will be a number of data points released that will have an impact on the Fed's ultimate decision.
Interested in seeing which economic announcements are coming up next week? Check out the economic calendar below.  The red stars indicate major announcements.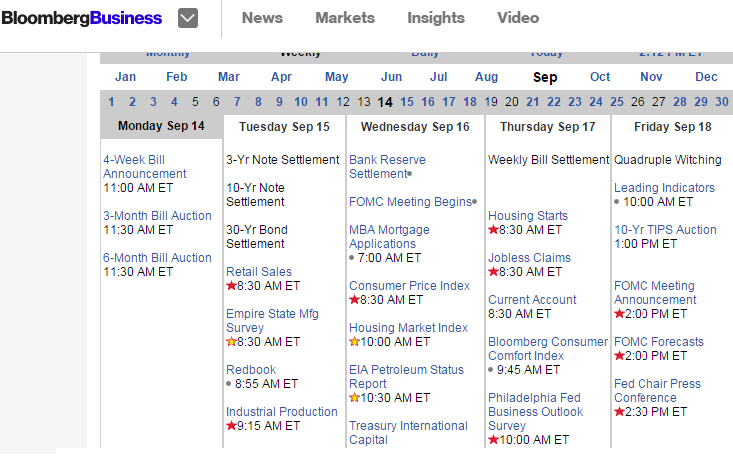 Picture from: http://www.bloomberg.com/markets/economic-calendar/
What does the world think?
Christine Lagarde, head of the International Monetary Fund (IMF), has expressed her opinion that the U.S should not raise rates at this time.
You may be wondering… why not?
With countries like China, Greece, and all of Europe for that matter, having their own economic struggles, a U.S rate hike could further exacerbate the situation.
If the USD increases based on the rake hike, other currencies will fall, creating more economic weakness in already struggling economies.
Want information on other news that is playing into the Fed's indecision? Read the following articles: How Oil Will Affect the Market & What Does The News of China's Yuan Mean For Your Trades?
Just more proof that September is terrible for stock traders?
How will this increased volatility play into the "September Slump" mentality?
Statistically speaking, September is the worst month to own stocks.
Since 1950, the month of September has seen an average decline in the Dow of 1.1%.
However, if you're taking this saying at face value, you're missing out.
Best Time To Buy Stocks: September
September may not be a great time for long-term investors, but for traders, this is the month when stocks go "on sale!"  
If you are a Bull, the objective is to buy low and sell high.
If that is your objective, a decline in the stock market is not something to be feared; it is an opportunity to buy stocks like NFLX, AAPL, GOOGL, and AMZN at significant discounts.
Trading successfully is about finding opportunity and knowing when to take advantage of it.
Don't forget to fill out the form below to register for a webinar where our expert analysts will walk you through the live market, current setups, and more trading news as events unfold.