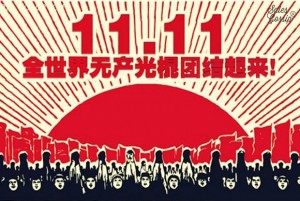 November 11th is a huge online shopping day in China, as it is the celebration of Singles Day. (11/11 represents the most singles (ones) you can have in a date.)
The event celebrates single people, but in recent years, Singles Day has become a frenzied discount shopping festival comparable to America's Black Friday or Cyber Monday sales — although much larger.  And as China's middle class grows, the need for goods to consume is providing new opportunities for foreign sellers.
A Global Shopping Festival
Despite a flagging economy, Alibaba Group Holding Ltd. (BABA) reported that Chinese consumers exceeded last year's 24-hour total spending of $9.3 billion in about 13 hours this year.  The day is currently on track to hit or exceed $13 billion in total sales for Alibaba, analysts said.
Since the event began in 2009 as an anti-Valentine's day — allowing singles to spend on themselves at a discount — more retailers from around the world are trying to get in on the promotion.  This year, American companies like Calvin Klein, Costco and Macy's are pushing Singles Day sales in China — and Alibaba even had a promotional video featuring a very American figure — Kevin Spacey, playing President Frank J. Underwood in the Netflix show "House of Cards":
Alibaba and its competitors, including JD.com, are working with foreign suppliers to showcase new items to Chinese consumers — including Mexican avocados, Australian baby food and British boots.  For investors watching these countries — and their currencies — it will be interesting to see what effect these international brands will have on the Chinese consumers.
We will probably see some effects from Singles Day in our Forex analysis, which we will share in our webinars over the next few days.  China's struggling economy — combined with a rising middle class which is consuming more actively — will continue to make the yuan a currency to watch in trading pairs.

To join us for one of our up-to-the-minute Forex webinars, just use the form below to register — and whether you're single or not, Happy Singles Day!