Guest post by Joshua Martinez
This month, MTI is focusing a lot on goal setting and achievement during our Ultimate 2015 – Resolutions: Returns series, so I thought I'd share with you how I track and work on achieving my goals.
Before the ball drops and champagne glasses clink together, I sit down and write up a growth plan. It's something I do every year to to help put the new year into perspective. I'm a firm believer that if you don't write down your goals, the chances of you making them a reality are about as low as making a million dollars on your first trade.
By writing down my growth plan, I make a formal agreement with myself to not only make my goals a reality, but to expand on them every day as new challenges arise. My growth plan is meant to grow with me as the year progresses, so I typically only have 2-3 focal points that can be tweaked as the year goes on. Here are the steps I'm taking in 2015 that I believe will not only make me a better trader, but a better leader and teacher as well.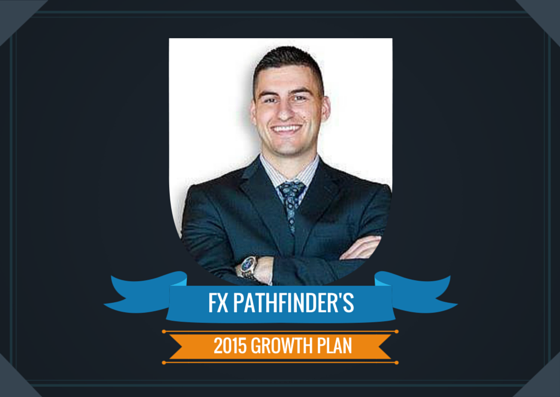 1. Taking the conservative approach to trading
I've always embraced risk, but this year I want to switch up my approach. My wife and I are expecting a baby this month, so naturally my priorities are switching. I need to have a more steady and stabilized trading method that will allow me to grow my account 2-5% each month. In order to spend more time with my growing family, I'm tailoring my trading strategy to focus on on slow gains and even slower losses. My goal is for every dollar I lose, I'll make $2 in return, allowing me to have a 2:1 win/loose ratio. Don't worry! I'm not going to desert my London Breakout Strategy or give up on the 4X Trading Prediction, I'm just shrinking my lot sizes and as always, conducting careful technical analysis.
2. Increase my leadership skills as an educator and MTI product developer
I consider this to be the most important part of my growth plan. At MTI we stress to our students that without the proper education, it could be impossible to master the market to achieve the financial freedom you want and deserve. Well, I believe the same can be said about leadership. Every year, I write down a list of a books I want to read to help improve my leadership skills. My 2015 list looks like this:
From Telling to Teaching – Jaye A Norris
Words that Work – Dr. Frank Luntz
7 Highly Effective Habits of Highly Successful People – Stephen Covey
5 Dysfunctions of a Team – Patrick Lencioni
Leadership Excellence Devotional: The Seven Sides of Leadership in Daily Life – Pat Williams
4 Agreements – Don Ruiz
Developing the Leader Within You – John Maxwell
Good Leaders Ask Great Questions– John Maxwell
You're probably noticing none of these books specifically focus on trading, but the funny thing is, they we're all recommended to me by traders! Something I have realized over the past 5 years is that trading has EVERYTHING to do with leadership. If you think about it, trading is your business and in order to have a successful business, you have to be a powerful leader who's capable of making objective decisions in a systematic, duplicable way.
Leaders deal with problems on the fly. They have to make quick, well-thought-out decisions for the well being of their business and the same can be said about traders. When a trade isn't going your way, you have to be able to analyze your chart quickly without emotion to make the best decision possible. Leaders also need to know how to communicate with their team in order to get things done. As a trader, you have to communicate with and understand the market in order to make the best trading decisions.
Now that you know about my 2015 growth plan, have you thought about making one for yourself? If so, I'd really like to see what you come up with. After all, it's never too late to make some last-minute adjustments. Share your thoughts with me on Facebook or Twitter by clicking on the buttons below!
To a happy, healthy and prosperous 2015,
Joshua Martinez
FX Pathfinder