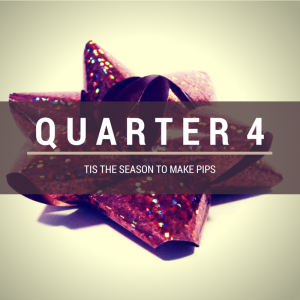 The end of the year is approaching. For many this means prepping Thanksgiving grocery lists and dusting off holiday decorations, but for traders it means the start of Quarter 4. New opportunities to make pips come knocking on your door faster than a crew of Christmas carolers, yet some traders still have the misconception that they need to stay out of the markets because things start to pick up.
We're here to tell you, don't follow the pack.
In Quarter 4, consumer spending typically increases and with that increased consumer spending, historically, the markets tend to see higher trading ranges in the currency markets. So what does this mean for the Forex trader?
Simply stated, higher trading ranges could mean more pips in your pocket. Stray away and you could miss out on some of the most volatile times of the year and therefore, forfeit your opportunity to make more returns. Our expert analyst, Chris Pulver, isn't shying away from this trading opportunity:
"The end of year will be interesting, as always. Next week (October 29th) is the FOMC Statement and Funds Rate. The USD has enjoyed a healthy bullish run from August-September, only to hiccup in October with dovish FED rhetoric. I will be closely monitoring the U.S. Dollar Chart and equities charts to see who will be the bigger winner depending on the level of risk appetite, the USD or JPY." -Chris Pulver
What are your Forex trading plans for the end of the year? Are you altering your strategy to comply with Quarter 4's increased volatility? Give us a shout out on social and let us know!
To learn more from our trading pros, join us during a complimentary webinar. RSVP using the form below: