After predicting more than $145,000* in past trading opportunities over the previous handful of months alone, MTI's analysts are at it again. With technical analysis from more than 20 years ago, MTI's analysts are predicting more than 6,500 pips-worth** of movement in two currency pairs — and this is without the currently immeasurable pip movements that could occur during the inevitable market waves. From the technical analysis charts at the MTI office, it looks like history is about to repeat itself.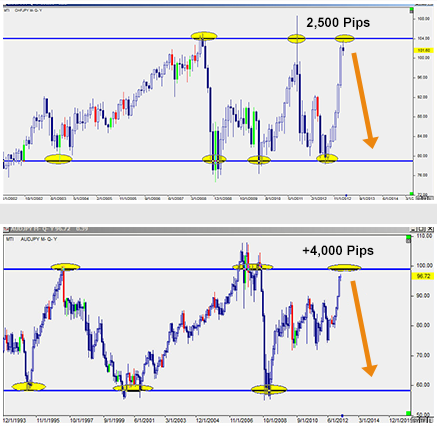 "There are very obvious market patterns that have made us confident in this move," said Head Analyst Joshua Martinez (FX Pathfinder). "The move has already begun and in a couple months, we are looking forward to adding this number to our successful trade predictions list."

The movements are expected to work alongside current MTI strategies which Josh is prepared to apply to his personal trades. Also, these strategies and movements are by no means a secret.

In upcoming webinars, a professional analyst will be sharing how traders of all skill levels could act on these predictions using the same strategies Josh himself will be using. If you would like to be a part of this piece of Forex history, complete the form below to reserve your webinar seat ASAP.

*Based on trading one standard lot.

**Pips captured represent net or overall pips for the trading period indicated. All results are based on simulated trading and are not live trading accounts. Please read our risk disclaimer for more information on hypothetical results.