Guest Posting by: Joshua Martinez, FX Pathfinder
Last month alone, I was able to profit $29,000 in live, manual trading. While some have questioned how I've done this, I felt that it was time to set the record straight. 
Two years ago, I began trading in a live account as I progressed through MTI's education. I initially deposited a mere $500 and decided to see what these strategies and techniques could get me if I worked hard and applied them as they were taught.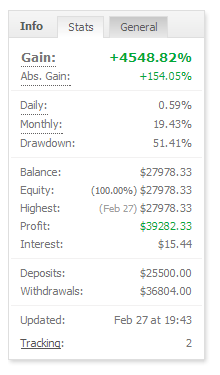 Here are my real results:
Average Trade Winnings Per Trade: 53 Pips
Percentage Growth: 4,548.82%
Profits Last Month (February 2013): $29,072.53
I'm not going to tell you that it was easy. It took dedication. It took time. And, it took confidence in my skills and what I learned as an MTI student, but I'm here to say yes, these results are real and they are possible. I am living proof!
I don't want you to take my word for it. Better yet, I don't want you to just walk away from this thinking that I have something that you could never have. I want to prove to you that this is possible. I want to personally show you how you could get exactly what I used to make this happen. 
For the full summary of FX Pathfinder's (Josh Martinez) live trading results, please click here. NSFH makes no claim or representation regarding, and accepts no responsibility for, the quality, content, nature or reliability of third-party websites.  NSFH does not endorse nor do we promote the activity of Myfxbook Ltd. Any statements regarding income, whether expressed or implied, do NOT represent a guarantee. No representation is being made that any account will or is likely to achieve profits or losses similar to those shown.  NSFH will not accept liability for any loss or damage, including without limitation to any loss of profit, which may arise directly or indirectly from use of or reliance on such information.