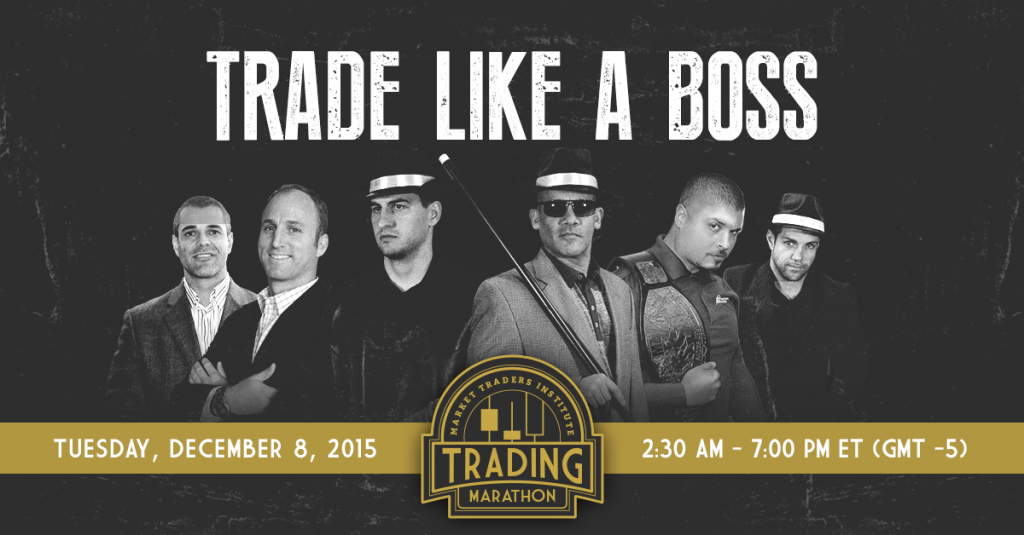 It's still a little early to talk about, but everyone at MTI is getting ready for another one of our exciting all-day events, and this one is going to beat everything that has come before it.
Trade like a boss
For the first time ever, we're bringing together all of the trading bosses — including bosses of the Forex market and even a representative boss from stocks and options — to trade with attendees throughout the day.  It's beginning next Tuesday, December 8th, at 2:00 AM ET (GMT-5) and continuing until 7:00 PM ET (GMT-5).
If you've never joined us for a Trading Marathon, you can expect expert analysis of the markets coupled with personal strategies for success.  (These bosses can be a little competitive, so we expect them to try and outdo each other!)
Make sure you're on the list
Even though usually the bosses like to keep a lid on their secrets, they're willing to let some new people into their event.  Just like in the old days, though, you need to have a password to register for this event.  And to get that password, you'll need to be on the bosses' list.
The good news for you is that all you need to do to get on the list for this exclusive event is attend one of our FREE webinars sometime this week.  Every day, we feature experts (including some of the bosses who will headline the Ultimate Trading Marathon) offering their take on the day's economic events, and the best ways to position yourself for success in the Forex and stock and options markets.  And when you're on the list, we'll make sure you get the password you'll need to attend our big event so you can learn how to "Trade Like a Boss!"
Sign up today and reward yourself next week by attending the Ultimate Trading Marathon.  You can register for one of our Forex events using the form below, or join us for one of our free equities webinars by visiting https://www.markettraders.com/stock-package/ today.