If you trade equities, you've talked about how oil is going to affect stocks.
According to Reuters, and Director of Equities Education, Chris Irvin, investors have a renewed appetite for risk when it comes to trading this commodity.
This is an interesting observation, and an interesting development, considering all that has happened with China's Stock Market recently.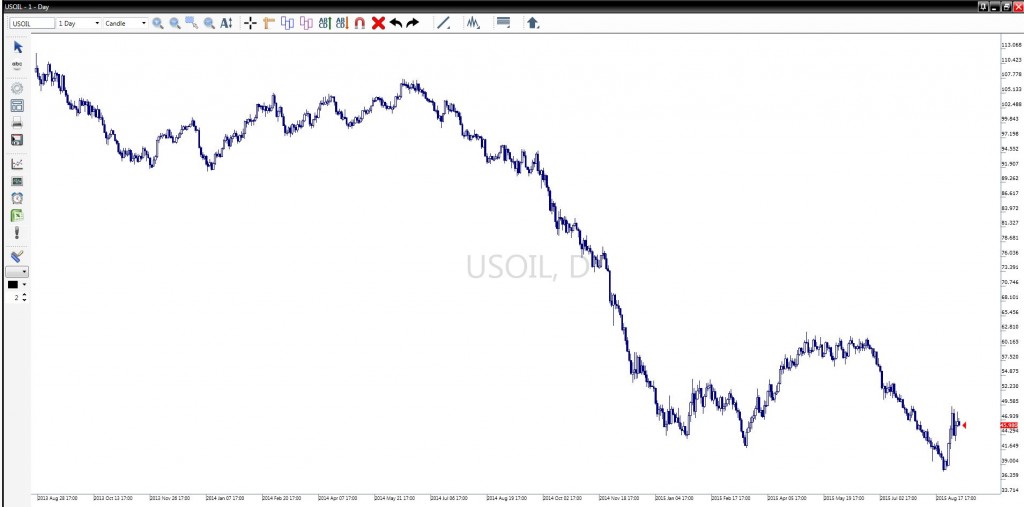 Beyond that, oil prices are continuing to ride the roller coaster of volatility.
"Just last week, we saw the market dip 1,100 points, and we were only able to regain 1,000 of those before the market dipped again at 580 points. It continued like this for a while." – Chris Irvin
So, how do we trade oil with the current volatility in the market? Having a solid risk management strategy is the first step.
Oil, Oil and more Oil
If the government sees an inflation in oil, they could expect interest rate spikes.
If you were paying attention last week, it looked as if oil was taking a turn for the upside.
(I can already hear the unanimous groan at the thought of gas prices going up.)
Oil has a long history of being hammered, especially recently. Although, this seems to be changing with this apparent upswing in the charts.
It is yet to be determined whether this will affect our economy. We'll all just have to wait and see what the market intends to do.
So, here's the question we've all been waiting for.
What does this mean for our trades?
The most important thing to remember is amidst the volatility in the market — from China and Oil — it's best to avoid trading on rumors. This goes directly back to having a solid risk management plan.
Check out this quick video, and see how Chris Irivn discusses Risk Management.
As Chris Irvin always says, "The best traders wait for the news to come out, see what happens based on that news, and then place their trades."
This allows for a more informed decision, and prevents the possibility of getting slammed from the whiplash that is sure to come after a potential announcement.
Looking Ahead
Taking a look at all of the data available, there is going to be a lot of speculation in the market. Due to this, it is important to 'trade on the technicals, not on the fundamentals'.
See our game plan by filling out the form below to attend this reveal-all webinar with the pros.