Guest Post by Christopher Irvin, Director of Options Education
How is 2015 treating you? I hope the January Defect didn't catch you off-guard. The market has been slower than anticipated but that doesn't mean the opportunity to make money is at a standstill.
The great thing about options is you could be profitable regardless of the direction the market is heading, but don't expect to carelessly jump into a trade and walk out as Warren Buffet 2.0. Just like everything in life, a well thought-out plan is crucial to helping you achieve your options trading goals.
Enter, trading checklist. It's just like that "honey do list" you left lying on the kitchen counter, only this one doesn't come with a ticking timeframe set by your significant other. That reminds me, I really need to fix that loose cabinet.
A trading checklist should work with your trading personality and is intended to help you achieve your trading goals. In my personal trading, I use several checklists. One of my favorites is the DEPOT checklist and I think it could become one of your favorites too.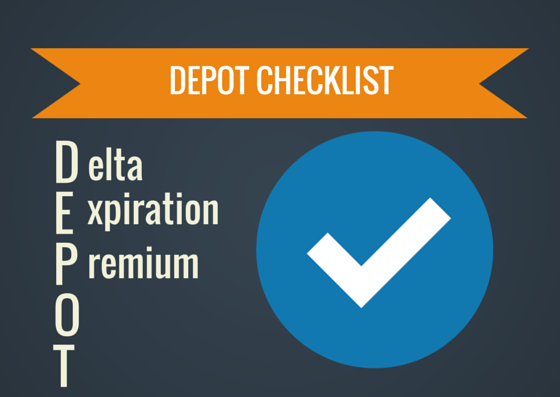 If you're one of my students, you're familiar with the DEPOT Checklist, because we cover this crucial checklist in detail within The Ultimate Options Course. If you're not a student, no worries. Today I'm just going to scratch the surface of my DEPOT checklist. If you want all the details, I encourage you to attend one of my upcoming workshops. Click here to claim a free ticket to an upcoming session (you can see the schedule here too). If you're a student and can't attend, you can access the workshops at anytime on your video archive.
There are hundreds of thousands of options to choose from and sometimes the search can be overwhelming, my DEPOT checklist could help you narrow your search by providing you with the criteria that an option should meet before you even think about trading it. Let me break it down for you:
Delta
This is the rate of change in an optionable stock based on a $1 underlying movement. I like to see how much I'm going to make on the delta before I decide to trade the option on a stock.
Expiration
One unique characteristic of an option is that every option expires. Before I enter a trade, I have to make sure I give myself enough time within the expiration date to make a considerable return.
Premium
When you trade options, you have to pay for the option itself and I like to make sure I am paying a reasonable price. The last thing I need is for a market maker to take advantage of me or my assets.
Open-interest
Click here to learn about open-interest in an upcoming workshop.
Time vs. Intrinsic value
To learn about this key criteria, click here to register for an upcoming workshop
That was just the gist of my DEPOT checklist, but I hope it sparked some ideas for how you could change your approach to options to become a market predator.
If you have certain criteria of your own that I didn't mention above, I encourage you to share them with me on Facebook, LinkedIn and Twitter by clicking on the buttons below.
Until next time,
Christopher Irvin