Attention options traders! Wondering which stock our pros have their eyes on? When it comes to trading woes, we think it's time to "let it go," as we are seriously considering the The Walt Disney Company (NYSE: DIS) for its options trading potential.
DIS said its profits reached $2.2 billion in its latest quarter, that's a 22% increase, and numbers are continuing to grow! So what's the cause of all the success? Increased park admission, strong franchise brands like 'Frozen' and the recent addition of the FIFA World Cup, are just a few of Disney's major projected money-makers.
While that's all fine and dandy, we're sure you're wondering how you could incorporate this information into your trades. Take a look at this chart: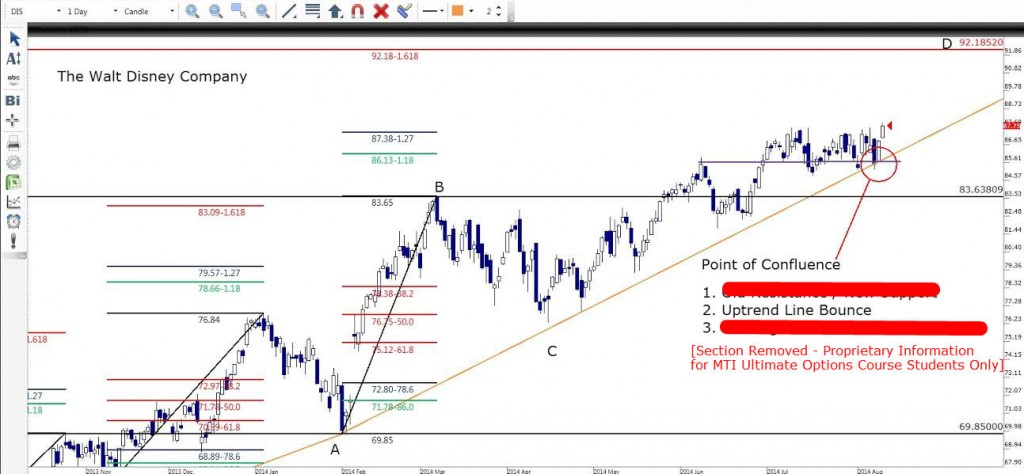 As you can see, DIS continues to follow an uptrend line bounce. Alongside uptrend movement, there are two more indicators which bring us to a point of confluence: [Section Removed – Proprietary Information for MTI Ultimate Options Course Students Only.]
A point of confluence is a powerful indicator that could lead you to better trades and personal success! That's because you have multiple indicators saying the same thing. Think of it like a doctor-recommended product. When you're out shopping for vitamins would you settle for the brand backed by two out of ten doctors, or would you go with the vitamins supported by eight out of ten doctors? The choice is obvious! More indicators could mean a more successful trade.
Want to know what the other two indicators are? Or maybe you'd like an expert's opinion on this week's trading plans, market report details and more? Register for one of our upcoming options webinarshere.



Happy trading!