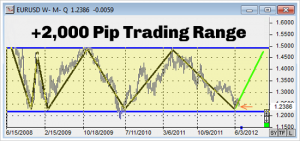 Some trading opportunities are like witnessing an eclipse. The chance is rare, but if you're prepared enough to take advantage of their occurrence, you'll be glad you did. The Pivot  Point is an example of this type of Forex trading opportunity. It's expected to occur in the EUR/USD pair within the next few days and it's hard to tell when we can expect to see it again.
The idea is simple. It's a long-term currency trading opportunity which is your chance to capture 2,000 pips in a period of a few months. It's similar to buying one share of Apple stock at the company's inception for $22 then watching it grow to the more than $600 value it has today.You set the trade and forget it! You'll come back to it later to reap the rewards!
The possibility is there but you must be prepared. The trick is learning when and how to enter the trade. Timing is everything! MTI's professional Forex Analysts are prepared to answer your questions and give you the details about how you could get your slice of this trading pie in a complimentary webinar!
Don't let this opportunity pass you by! Here is your chance to learn more about this trading opportunity before it is too late. To reserve your spot in a complimentary webinar about the topic, click here.