The euro has yet to see the end of their roller coaster ride commonly known as the euro crisis. After last week's upward ascent against a number of its counterparts, the currency is now falling. This comes shortly after the European Central Bank's comments that left some optimistic for another economic stimulus.
In the technical analysis chart below, Senior Forex Analyst Shawn Beecher saw a 127 pip movement in the EUR/AUD pair in less than two days.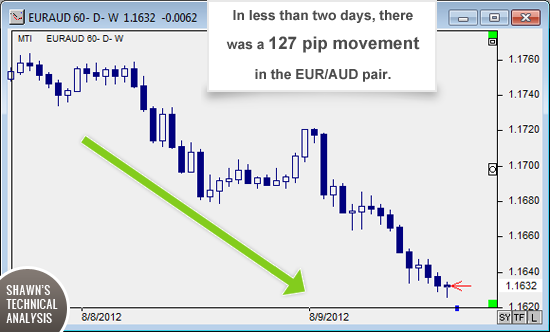 The next turn, hill, plunge or shuttering stop the euro makes could impact your currency trades. Many Forex traders are amused by this euro-coaster ride for one reason and one reason only: It creates potential trading opportunities.
Don't ride the emotional roller coaster at the Forex amusement park. Put the brakes on your emotions and start trading smarter! Forex education could show you how. To learn more, attend a complimentary webinar. Complete the form below to reserve your virtual seat today.