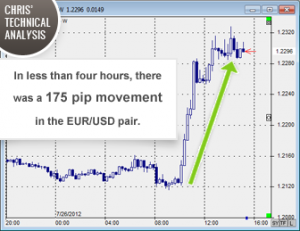 After slightly rising above its two-year low on Tuesday, the euro is continuing to strengthen against the U.S. dollar. Today, the currency began to move sharply after European Central Bank President Mario Draghi said the ECB was ready "to do whatever it takes" to help the region's weak economy.
This bold statement sent the markets moving in the euro's favor. In this chart, Forex Analyst Chris Beecher shows a 175 pip movement in the EUR/USD pair within four hours after the comment was made. Further economy-boosting plans will be discussed at next week's meeting.
The time is now.
Fundamental announcements such as these create trading opportunities. The best way to get ahead of the game and ensure that your trades aren't being left in the dust is to start your Forex education now. This could be the euro's comeback. It's time you make a financial comeback too.

To learn the first steps to making your trading comeback, attend a LIVE, complimentary webinar with an experienced Forex analyst. Reserve your seat by completing the form below.