December is coming to a close, but the New Year isn't here just yet. Before you even think about getting your trading resolutions in order, have you asked yourself: "Am I on the Trader Naughty List?"
Here at Market Traders Institute, our main concern is YOUR success and the last thing we want is for you to end up with coal in your trading account. That's why we asked our expert analysts what bad trading habits could land you on the Trader Naughty List. Here are the top 10 traits that they came up with.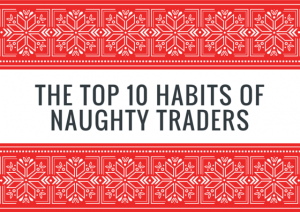 1. Trading with a lot size that's too large for your account size.
2. Never sticking to a strategy for more than 100 trades.
3. Trading the news all of the time and neglecting the technicals.
4. Fighting the major market trends in order to be "right."
5. Obsessing over every tick or pip instead of looking at the big trading picture.
6. Neglecting a balanced lifestyle and watching your trades suffer because of it.
7. Blaming everyone but yourself for trading losses.
8. Trading without a stop loss.
9. Chasing your loses.
10. Failing to practice trades in a demo account before going live.

So how do you stack up? We want to know where you stand and how we could help you make the nice list just in time for Christmas. Send us a shout out on social media by clicking on the buttons below and we'll answer your questions as soon as we can!





For more pro tips and to see how you could prepare your trading strategy to make 2015 your best trading year yet, sign up for one our free webinars with the form below: