What's on your list of resolutions?
Lose weight? Volunteer more? How about make more money from your trades (take a guess which one we're focused on)?
Whatever your resolution may be, did you know the chances of you fully achieving it are slim to none? At least that's what Forbes has to say about it. In a recent article, Forbes released that "8% of people achieve their New Year's resolutions." But we know you're not just anyone; you're a part of the MTI team and we know you have more drive than that!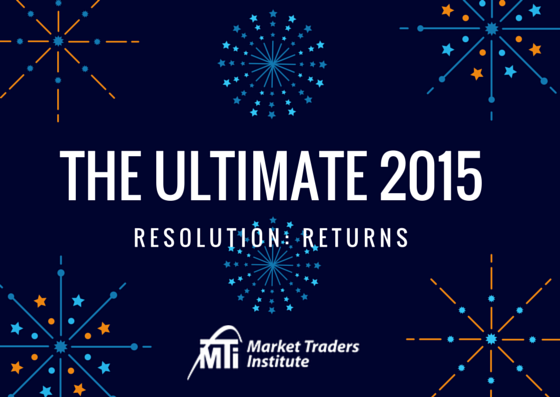 We want 2015 to be your best trading year yet, so that's why we came up with The Ultimate 2015 – Resolution: Returns. All month-long, our workshops will be focused around this theme, as we showcase the tactics our analysts are using right now to find the biggest trade setups of 2015.
Check out the schedules for all the info:
FOREX
Other Forex Traders' Workshop Schedule >>
OPTIONS
Students, Contact Your Education Specialist – 1.800.866.7431
Other Options Traders' Workshop Schedule >>
The Ultimate 2015 – Resolution: Returns is also taking over our social media sites. Get connected with us to and see the 21 habits that make a successful trader:
We're going all out to help YOU become the best trader you can be in 2015, but we can't do it alone. That's why we want you to join us in #TagATrader! When you see this hashtag, tag a friend who you want to share the tip with, or use it alongside a question you want answered by one of our experts! Every week they'll be searching the web for your questions so they can answer them.
We can't wait for you to see what we have in store for you in 2015!
Here's to joining the 8% of successful resolution keepers,
MTI Education Team