Most people use coffee to wake them up in the morning, but we head to our community of traders on Facebook, LinkedIn, Google+ and Twitter for our daily dose of energy. To be honest, nothing is more invigorating than watching our students achieve their trading dreams.
So many of you have made major milestones this month, but we wanted to take the time to acknowledge a handful of standout students who are making 2015 their best trading year yet. So, without further ado, here are Market Traders Institute's Top Traders of February 2015!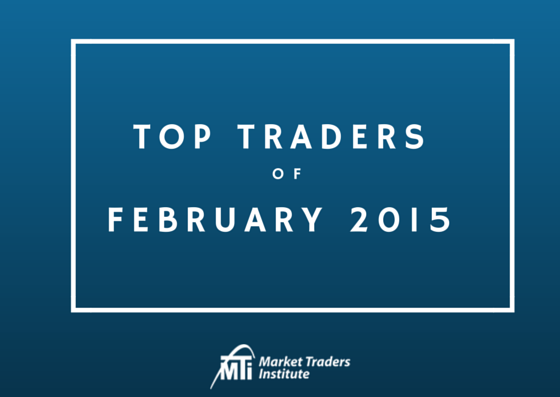 Ibrahim Fxmd
Ibrahim is one of those students you can always count on to have a great trading day! His frequent trading successes make us proud to call him a MTI student!
Ibrahim has been with us for a little over a year and this past week he took to our Facebook page to share his success: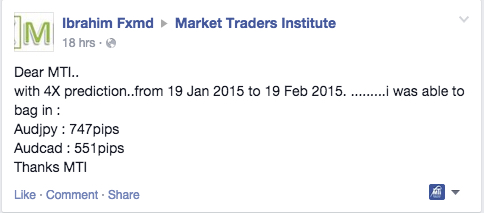 That's over 1,298 pips within a month; talk about a payday! We asked Ibrahim's Account Executive about his trading journey and here's what he had to say:
"Ibrahim has impressed me since day 1 with his natural ability to understand the Forex market. I always look forward to catching up with him and seeing how his trades are progressing."

– James S., Account Executive and Educational Advisor for Ibrahim Fxmd.
Alvina G.
Alvina is one of our Ultimate Options Course students. She chose MTI to be a part of her trading journey in August 2014 and has seen some phenomenal results since. Here's what she had to say about her best trading day to our Director of Options Education, Chris Irvin.
Could you imagine making $9,000 in just a few hours?! A huge congratulations goes out to Alvina and all of her Options trading success. We are excited to see what the future holds for you.
Sue Stevens
What can we say about Sue, other than she is one amazing trader! Sue has been an MTI student since May 13th, 2013 and made leaps and bounds with her technical analysis with the guidance of her Account Executive and Educational Advisor, Samir C.
"I am so proud of Sue. She's had her fair share of bumps in the road, but just like every pro trader, she keeps getting up and trying again."
– Samir C., Account Executive and Educational Advisor for Sue Stevens
This month, Sue made huge leaps in her educational journey that allowed her to bag over 98 pips with the help of Market Traders Institute's FX Trading Decoder Course.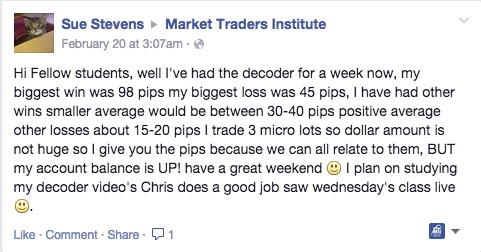 Keep up the great work Sue!
Trish Walker
Trish Walker's been a student at Market Traders Institute since January 4th, 2013. For the past 2 years, she's worked diligently with her Account Executive and Educational Advisor, Sam C. to fine tune her Forex trading strategy.
Her hard work certainly paid off on February 12th, when she made 1,258 pips in 24 hours with the help of FX Fire and MTI's methodology.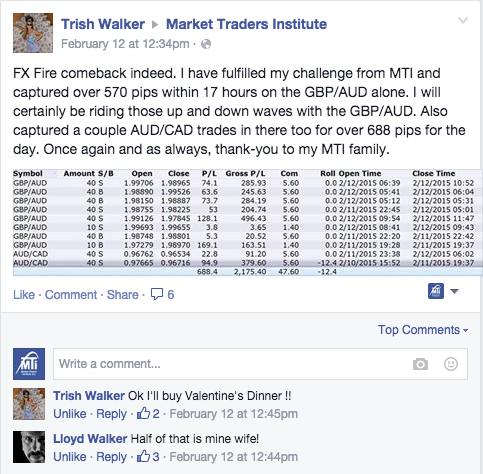 Funny enough, Trish's husband, Lloyd is a successful trader himself. You know what they say… a couple that trades together, stays together.
Bobby Scott
This star trader's story really hits home for us. Not only is he a student, but he's also our very own Client Support Manager. Bobby has been learning to trade with us for several months now, utilizing the time between his 9-hour work days.
His hard work and dedication truly paid off when he was able to purchase a brand new car after a 1,500 pip week.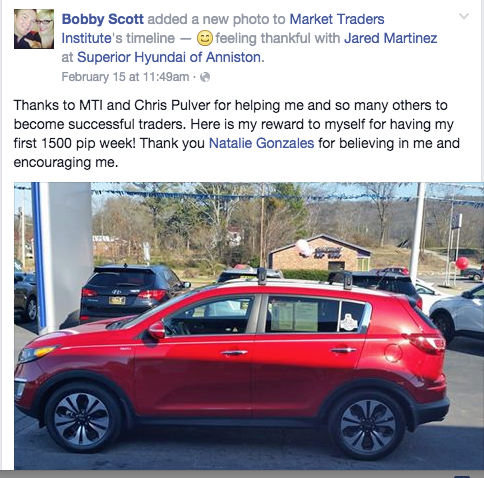 We couldn't be happier for Bobby. Next coffee run is on you buddy!
Huge congratulations to the top traders of February 2015. The year has just begun and we're looking forward to watching all of you continue to succeed and flourish in Forex and Options.
Want to get connected with our students and hundreds of other successful traders to pick their brains? Join our online community of traders by clicking on the buttons below.
Keep it up students and remember, we are always here for you when you're stuck in a trading rut. Here's to making the top traders list for March 2015!
To pips and profits,
Your MTI Education Team