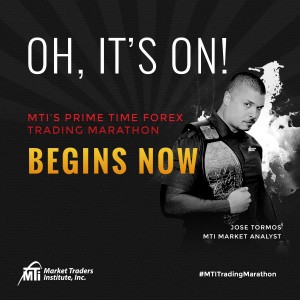 The holiday season is upon us and while many are overwhelmed by the influx of hustle and bustle, as traders we couldn't be more excited. Q4 is historically known for its increased volatility and major market movements, which means the profit potential for Forex traders could skyrocket.
This increase could mean higher trading ranges, which could directly translate to more pips in your pocket. Stray away and you could miss out on one of the most volatile times of the year and therefore, forfeit your opportunity to make more returns. So, how can you take advantage of this prime trading time?
Join us for our Prime Time Trading Marathon to find out >>
Our experts aren't calling this our Prime Time Forex Trading Marathon for nothing! During this 12-hour marathon, we're bringing MTI's elite traders back to trade for you live during the prime hours of the day in order to show you the setups, demonstrate the strategies and give you real-time training experience like no other. See what they have to say about this massive event in our official trailer:
It all takes place Tuesday, November 18 at 2:30 AM ET until 2:30 PM ET (GMT -5). We're running out of seats faster than Best Buy runs out of TVs on Black Friday! Save yours now by clicking on this link to register: http://goo.gl/kYbjUE .
We'll see you there bright and early!