Today, the US dollar left the Japanese Yen in the dust as the dollar strengthened dramatically against its counterpart.
The positive move for the USD happened directly after reports showed current retail sales data surpassed projections. This new data shows the first rise in retail sales in more than four months. The news has relieved some worries that another monetary stimulus will be needed to push the slowly recovering economy along which would, theoretically, weaken the dollar and open the door to inflation.
In my analysis below, I saw a 36 pip movement in the USD/JPY pair in less than two hours after the announcement was made.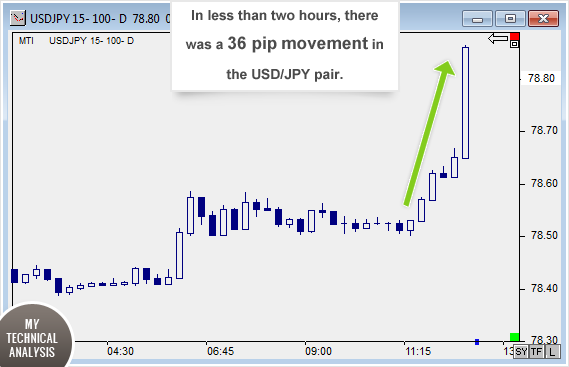 Let the trading fun begin.
Many Forex traders foresee more good news for the USD in the third quarter. This could mean big gains and even bigger trading opportunities. You don't have to cheer from the sidelines. Get in the action. Forex education could show you how.
To get the know-how you need to take Forex trading into your own hands, attend a complimentary webinar by completing the form below: