Today, Americans were anxiously awaiting the latest news about the healthcare reform vote. When the announcement was made that President Obama's Healthcare Reform Bill would be upheld, you may have been surprised by the extreme movement that rumbled through the currency market.
In the chart below, Forex Analyst Mark Maldonado visually depicts a 120 pip movement in the USD/CAD pair that took place in less than four hours after the announcement.This trading opportunity occurred minutes after the Healthcare Reform announcement was made.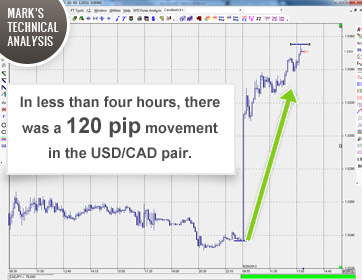 Certain announcements cause the market to change rapidly which can create trading opportunities traders want to capture.  The rapid and substantial movement after today's announcement surprised many Forex traders.
Are you tired of missing out on trading opportunities? Do you have unanswered questions about how you could prepare yourself to make moves when the market does? Stop wondering and start trading! To learn more, attend a complimentary webinar with a Live Forex analyst by completing the form below.