Guest Post by: Joshua Martinez – Lead Analyst and MTI Product Expert
I don't know about you, but I am thrilled winter has finally come to an end. Spring is officially here and that means plenty of Sunday BBQs with my family in the Florida sun and we'll have a great space to do it in, once my house renovations are complete.
As we switch our boots for boat shoes in anticipation for Spring, I can't help but think of all the amazing changes we have going on at Market Traders Institute. That's right, the seasons aren't the only thing changing around here.
While some spent the winter hibernating, my team and I spent countless hours creating this…
The NEW Ultimate Traders Package on Demand™
Our number one priority has always been the well-being of our students and the constant progression of their trading careers. So why would we remain stagnant and not make improvements of our own?
That's why we asked you what you wanted from your education and we listened. We read your emails, responded to you on Facebook and quickly got to work on making The Ultimate Traders Package on Demand™ even better than you expected. By improving and expanding the current The Ultimate Traders Package on Demand™ lessons, we are able to provide an enhanced flow of trading concepts while reducing lesson redundancy.
Simply stated, The NEW Ultimate Traders Package on Demand™ provides you with a cleaner, more streamlined education platform.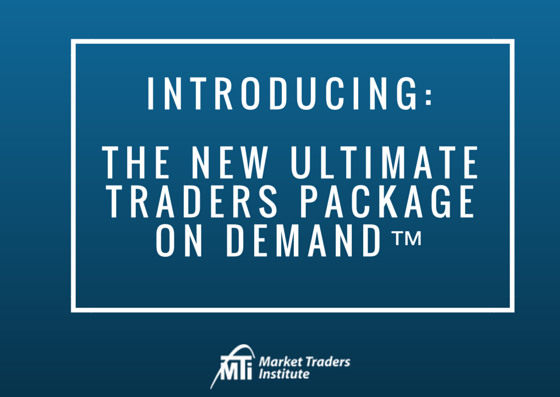 The NEW Ultimate Traders Package on Demand™ Key Features include:
12 Extensive Lessons + 8 Wealth and Freedom Strategies – dive head first into the Forex. Don't know how to trade? No worries, our expert analysts will be your trading life guards throughout your journey.
Interactive Activities – worksheets are so 2014. Reinforce what you learn with fun interactive activities that cater to every learning style.
Mobile Compatibility – that's right you can now take your education with you on your smart phone or tablet. Complete a lesson on your bus ride to work or while waiting in the doctor's office.
Release Date and Additional Information
The NEW Ultimate Traders Package on Demand™ is set to release April 7th. If you want more information on how you could use this powerful education tool to boost your profit potential, attend an in-depth workshop: Click here to RSVP >>
These past several months have truly been a labor of love for everyone here at Market Traders Institute and we couldn't be more excited to share The NEW Ultimate Traders Package on Demand™ with you.
To improving your trading future,
Joshua Martinez