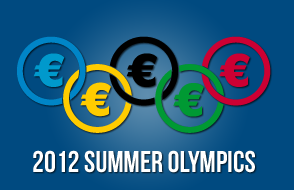 While the European Central Bank throws around numbers in their economic planning sessions to combat the current euro crisis, London, England is counting large numbers as they host the 2012 Summer Olympics.
In projected numbers from earlier this year, the games were expected to fuel the British economy to the tune of €10 billion. This is a welcomed revenue from an event boasting500,000 visitors and a job creation total of more than 100,000.
Hosting the Olympics typically means an increase in profits for the host city, but what about the city's main currency. Could the Olympics boost the euro's standing? Could these games ease the region's ailing economy and give the euro an edge against its Forex competition?
Join our Senior Forex Analyst, Shawn Beecher, as answered the Olympic-euro question  and what it could mean for your currency trading. Register for an upcoming, complimentary Forex webinar by completing the form below